Page 2 - Westbury Filtermation Catalogue
P. 2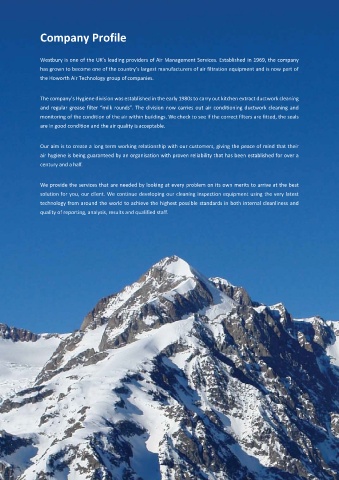 Company Profile



               Westbury is one of the UK's leading providers of Air Management Services. Established in 1969, the company
               has grown to become one of the country's largest manufacturers of air filtration equipment and is now part of
               the Howorth Air Technology group of companies.


               The company's Hygiene division was established in the early 1980s to carry out kitchen extract ductwork cleaning
               and regular grease filter "milk rounds". The division now carries out air conditioning ductwork cleaning and
               monitoring of the condition of the air within buildings. We check to see if the correct filters are fitted, the seals
               are in good condition and the air quality is acceptable.

               Our aim is to create a long term working relationship with our customers, giving the peace of mind that their
               air hygiene is being guaranteed by an organisation with proven reliability that has been established for over a
               century and a half.


               We provide the services that are needed by looking at every problem on its own merits to arrive at the best
               solution for you, our client. We continue developing our cleaning inspection equipment using the very latest
               technology from around the world to achieve the highest possible standards in both internal cleanliness and
               quality of reporting, analysis, results and qualified staff.